Press Release: Community-Based, Environmental and Civil Rights Activists Across Country Issue Statement and Unified Demands – New York Lawyers for the Public Interest
July 7, 2020
Coronavirus, Environmental Justice, News, Press Release[1][2][3][4]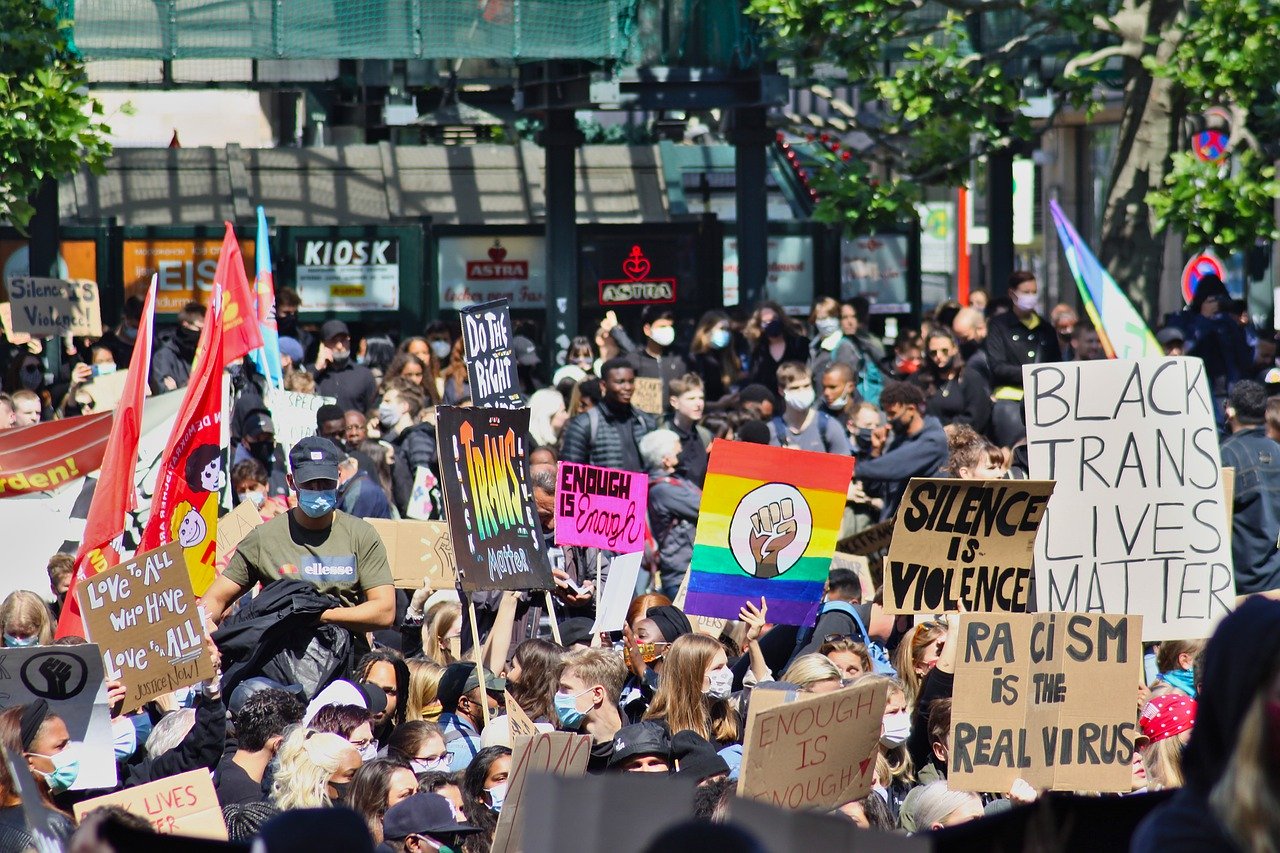 NYLPI joins a nationwide alliance of environmental justice groups, activists, allies, and partners, releasing a
call to action
[5]
highlighting the disparate impact causing COVID-19 to infect and kill a disproportionate number of people subjected to systemic racism and the denial of self-determination throughout the United States.
Senior Staff Attorneys Melissa Iachan and Christine Appah
helped draft the call to action, which lists eight demands to dismantle the structures that perpetuate inequality. It is signed by over 60 groups and individuals who have worked for years on issues of environmental justice, civil rights, and the environment at local, state and national levels, from across the country.
N E W S R E L E A S E
For Immediate Release
Contact:
Genevieve Friedman (NYLPI)
212 784 5709 gfriedman@groupgordon.com[6]
Jake O'Neill, Press Secretary (CLF)
617.850.1709 joneill@clf.org[7]
Vernice Miller-Travis (Metropolitan Group)
301-537-2115 vmiller-travis@metgroup.com[8]
Racial Inequalities Laid Bare by COVID-19 Pandemic and Response Require Effective Action to Address Race Discrimination and Segregation
New York, NY – June 7, 2020 — A broad alliance of environmental justice groups, activists, allies, and partners from across the country, today released a call to action highlighting that disparities experienced by people of color during the COVID-19 crisis reflect environmental racism and a long history of discrimination and segregation. The statement[9] shows how the confluence of crises in the US has exposed the sacrifice zones to which we relegate communities of color, immigrants, indigenous people and other marginalized groups, and includes specific steps the country must take to begin to rectify the legacy of harm from racist policies and institutions. As the country confronts systemic racial inequality, the alliance is speaking out during this unprecedented time to affirm the goals of the Black Lives Matter movement, condemn the epidemic of police killings of people of color, and call for an end to the disproportionate death of people of color resulting from environmental racism.
"How many times have we heard those advocating for environmental justice and equal protection demand a 'paradigm shift' over the past forty years? How many times have we heard these same communities and advocates ask U.S. EPA and other agencies to investigate the cumulative effects of multiple sources of pollution bombarding the places where they live, work, attend school, worship and play? We've said over and over that we 'could not breathe,' and too many were dying from proximity and exposure to nearby sources of pollution. For the most part our cries and demands for reduction of pollution went unheeded," said Vernice Miller-Travis, Executive Vice President for Environment and Sustainability, Metropolitan Group, a longtime member of the alliance and one of the statement's authors. "Today, the syndemic of environmental and racial injustice, and the novel coronavirus have brought into dramatic relief that exposure to fine particle air pollutants is making these same communities the epicenter of illness and disproportionate rates of death from COVID-19. Maybe now, when so many in these communities are dying needlessly, we can finally get them the help they so desperately need and deserve."
Signed by over 60 groups and individuals who have worked for years on issues of environmental justice, civil rights, and the environment at local, state and national levels, the call to action highlights how the legacy of systemic discrimination contributes to the disproportionate impact of the coronavirus on communities of color. It calls for eight steps forward to dismantle the structures that perpetuate inequality. These include equal protection under the law to address inequalities in housing and environmental exposures, an end to discriminatory segregation, access to clean water, and stronger enforcement of environmental laws, among others.
The call to action was drafted by the Title VI Alliance, which works to ensure that environmental and land use policies are at the forefront of progress toward justice as the nation confronts a legacy of racial discrimination and grapples with reforms ranging from policing to health care. The Title VI Alliance was formed more than a decade ago as a space to regularly convene local, state, and national advocates and activists across the country to exchange advice, strategize, and draft state and national legislation to advance equal protection under the law. Many activists, individuals, and other groups across the country signed onto the statement in solidarity.
Vincent Martin, a Detroit, Michigan resident and long-time environmental activist, said, "Black communities in Detroit have been hit hardest by COVID, and I've lost a number of family members. It's not surprising because we have been subject to years of unhealthy air and pollution. It's time for action. We can't wait another day."
Marianne Engelman Lado, Director, Environmental Justice Clinic, Vermont Law School, said, "For too long the country has tolerated or even promoted policies that concentrate sources of pollution – everything from refineries to sewage plants, industrial hog facilities to incinerators – in communities of color and low-income communities, and the consequences are more deadly now than ever. We have to change course, recognize that industrial polluters should be held accountable under civil rights laws, and send the message that it is no longer acceptable that whether you get sick and die prematurely is related to race in this country."
McGregor Smyth, Executive Director of New York Lawyers for the Public Interest (NYLPI), said, "We are proud to work with such committed community partners across the country at this pivotal moment to shed light on the deep inequality and bias the COVID-19 pandemic and the Black Lives Matter movement have brought to the forefront. Together, we advance solutions that put the lives and welfare of communities of color, indigenous people, immigrants, and frontline workers first. For over forty years NYLPI has fought in community-led campaigns against the systemic problems of environmental racism, xenophobia, disparities in health access, and discrimination against people with disabilities. While our communities have won victories along the way, deeply rooted systemic barriers to equality remain. Our hope is that this moment of recognition of the structural nature of racial discrimination in our society makes us stronger and brings us closer to true equality, progress, and justice."
Dr. Gayle Dine Chacon, Former Surgeon General of the Navajo Nation, said, "Native people have shown our resilience for centuries. Just as we have used resilient strategies to address the lack of clean water, access to health care, educational inequality, the digital divide, and abandoned uranium piles poisoning our land, we must use resilient strategies to address COVID-19. Until the United States government upholds its treaty obligations to Native people, where we ceded our lands for the right to housing, healthcare, and education, we will rely on our courage, wisdom and resilience to survive this latest threat, just as we have survived all the previous threats to our existence."
Rosie Bongiovanni, Executive Director of GreenRoots Chelsea, said, "COVID-19 has brought to bear what many of us have been voicing for years: structural racial and classism have saddled brown and Black communities with a disproportionate share of the health and environmental disparities. We've seen that our community of Chelsea has gotten sick and is dying in unprecedented numbers. There is no question that this is due in part to decades of racial and environmental injustice. GreenRoots is committed to fight against anti-Blackness, racial, cultural and ethnical biases and discrimination."
Maya Golden-Krasner, Deputy Director of the Climate Law Institute at the Center for Biological Diversity, said, "COVID-19 has laid bare the pervasiveness of racism in our society—from public health and environmental injustice to unequal education, housing, and workplace conditions. Now is the time for a fundamental restructuring of our economy to stop sacrificing people and start investing in our communities, especially communities of color."
J. Michael Chavarria, Governor, Santa Clara Pueblo, Chairman of All Pueblo Council of Governors, said, "The All Pueblo Council of Governors continues to advocate for the federal government, our Trustees, to address our urgent needs during this National Health Emergency. The federal government has treaty obligations to protect the health and safety of Pueblo people – obligations that have never been fulfilled, leading to the heavy impact of COVID-19 in some of our Pueblo Nations. Our relationship with the federal government is not based on race but rather based upon our status as political sovereign governments engaged in a government to government relationship, established in the US Constitution, supreme court decisions, treaties, statutes and federal Indian law."
Amy Laura Cahn, Senior Attorney, Interim Director – Healthy Communities & Environmental Justice, Conservation Law Foundation, said, ""The data is clear: COVID-19 is attacking Black, Latinx, and Indigenous communities at astronomical rates. For generations, our legal system has withheld resources and legal protections from these communities while shielding whiter, wealthier areas from environmental harm. Now is the time to create new systems that prioritize the rights, health, and self-determination of those who have been denied these freedoms since before this country's inception."
The statement is available here[10].
About the Title VI Alliance:
The Title VI Alliance brings together local, regional, and national organizations and activists, many of whom have been working together for more than a decade within and in support of the environmental justice movement. Members have filed civil rights complaints and have substantial experience with the failure at all levels of government to implement and enforce a meaningful civil rights enforcement program that would address deep and scarring racial inequalities in the location of polluting sources, exposure to toxic substances, and environmental enforcement. Many of the participants, including members of environmental justice, civil rights, and environmental groups, have sought enforcement of Title VI of the Civil Rights Act of 1964 across administrations, raising concerns about the utter failure of the government – including but not limited to the EPA – to enforce the law.
Signatories to the statement include:
Alaska Community Action on Toxics
Amigos Bravos
Azul
Center for Biological Diversity
Center for Environmental Health
Children's Environmental Health Network
Clean Water Action Conservation Law Foundation
Conservation Voters New Mexico
Deep South Center for Environmental Justice
Earthjustice
Environmental Justice Clinic, Vermont Law School
The Forbes Fund
Great Basin Resource Watch
Gasp
GreenRoots
Multi-Cultural Alliance for a Safe Environment
National Black Environmental Justice Network
Natural Resources Defense Council
New Mexico Environmental Law Center
New York Lawyers for the Public Interest
PODER
Rio Grande Indivisible
River Source
Save the South Fork Salmon
Sierra Club
The Sierra Fund
Toxic Free NC
Veterans for Peace Golden Rule Project
WE ACT for Environmental Justice
West End Revitalization Association
Western Watershed Project
Yale Center on Climate Change and Health, Yale School of Public Health
Mustafa Santiago Ali
Marc Brenman
Rob Brenner
Robert Bullard
Debbie Chizewer
Michael Churchill
Jennifer Clarke
Thomas De Press
Christopher Brady Eaves
Steven Fischbach
Ebony Griffin
Richard Grow
Earl Hatley
Adrienne Hollis
Polly Hoppin
Helen Kang
Marva King
Gregg Macey
Vincent Martin
Dayna Bowen Matthew
Vernice Miller-Travis
Marisa Perales
Cynthia B. Peurifoy
Michelle Roos
Wyatt G. Sassman
Gerald Torres
Carlton Waterhouse
Ronald H. White
Sacoby Wilson
Katherine Wolf
Beverly L. Wright
Tseming Yang
###
Common Dreams: 60+ Environmental Justice Advocates and Groups Issue Coronavirus Call to Action Demanding End to 'Sacrifice Zones'[11]
The Intercept: What Racism Smells Like: Ravaged by Covid-19, Polluted Communities Demand Environmental Justice[12]
Here's what you can do right now for justice in New York…
Get updates on our cases and campaigns, and join us in taking action for justice…
Source URL: Read More
The public content above was dynamically discovered – by graded relevancy to this site's keyword domain name. Such discovery was by systematic attempts to filter for "Creative Commons" re-use licensing and/or by Press Release distributions. "Source URL" states the content's owner and/or publisher. When possible, this site references the content above to generate its value-add, the dynamic sentimental analysis below, which allows us to research global sentiments across a multitude of topics related to this site's specific keyword domain name. Additionally, when possible, this site references the content above to provide on-demand (multilingual) translations and/or to power its "Read Article to Me" feature, which reads the content aloud to visitors. Where applicable, this site also auto-generates a "References" section, which appends the content above by listing all mentioned links. Views expressed in the content above are solely those of the author(s). We do not endorse, offer to sell, promote, recommend, or, otherwise, make any statement about the content above. We reference the content above for your "reading" entertainment purposes only. Review "DMCA & Terms", at the bottom of this site, for terms of your access and use as well as for applicable DMCA take-down request.
Acquire this Domain
You can acquire this site's domain name! We have nurtured its online marketing value by systematically curating this site by the domain's relevant keywords. Explore our content network – you can advertise on each or rent vs. buy the domain. Buy@TLDtraders.com | Skype: TLDtraders | +1 (475) BUY-NAME (289 – 6263). Thousands search by this site's exact keyword domain name! Most are sent here because search engines often love the keyword. This domain can be your 24/7 lead generator! If you own it, you could capture a large amount of online traffic for your niche. Stop wasting money on ads. Instead, buy this domain to gain a long-term marketing asset. If you can't afford to buy then you can rent the domain.
About Us
We are Internet Investors, Developers, and Franchisers – operating a content network of several thousand sites while federating 100+ eCommerce and SaaS startups. With our proprietary "inverted incubation" model, we leverage a portfolio of $100M in valued domains to impact online trends, traffic, and transactions. We use robotic process automation, machine learning, and other proprietary approaches to power our content network. Contact us to learn how we can help you with your online marketing and/or site maintenance.